Deer Information
We accept clean and boneless deer meat all year except for the two weeks before and two weeks after Christmas. Please package your boneless deer meat in small packages.  We do not take in whole deer or do any sort of deboning.  Due to the large quantity of deer meat taken in and combined with the holiday season, we briefly stop making deer snack sticks from the start of rifle season until about January 15.
Ready to Eat Deer Products 
1. Long Deer Sausage in a collagen casing                $2.39
2. Jalapeno Cheese (only available in 1lb Long)       $2.70 
3. Regular Deer Sausage in natural beef casing       $2.50 
4. Snack Sticks                                                                     $4.99 
5. Weiners                                                                             $4.99
6. Jalapeno Cheese Snack Sticks                                   $5.29 
**Vaccuum packing is an extra 50 cents/pound  for regular and only 40 cents/pound for long sausage.
Raw Deer Products 
1. Deer Burger (wrapped and frozen) 
             Plain                                                                           $0.85 
            Burger with 1/3 pork added                               $1.48 
2. Brats and Pork Sausage (wrapped and frozen) 
          Fresh Links                                                                 $2.79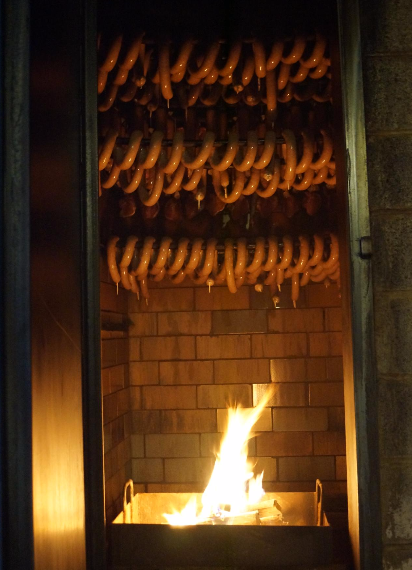 Share The Harvest
Oberle Meats accepts clean boneless deer meat from any hunter that wishes to donate their meat to families in need.  All meat is processed and then forwarded to one of the local food pantries.  There is no charge for this option.